Please join our Facebook group to contribute to current discussions:

ATESOL NSW, in collaboration with the peak national body ACTA (Australian Council for TESOL Associations), continues to advocate for professional standards which have been built up over decades. Below is a snapshot of our news and advocacy initiatives.
2022

On July 14th the universities of NSW and Sydney, together with the Australian Council of TESOL Associations (ACTA) and ATESOL NSW, hosted a public forum on the future of EAL/D education in Australia.
The forum provided an opportunity for key NSW stakeholders to consider a National Roadmap for EAL/D Education in Schools launched by ACTA on the 6 May. Click here to read that post.
Australia once had a world-class national system of specialist English language provision supporting newly arrived, migrant and refugee students' participation and achievement in the English-medium curriculum. Over the last two decades, however, national commitment, effort and accountability for this vital educational access and equity program has faltered.
As Australia emerges from the pandemic and re-opens to the world, state and national leadership is needed to restore its former leading role and rebuild the effective English language and literacy provision that Australia's English language learners need to successfully participate in school education and contribute to a cohesive and prosperous multicultural society.
Click here to access the forum recording.

2021


ACTA Submission to the QITE Review (August)




Teacher education is failing to respond to the 600,000 English language learners in Australian schools, according to the recent submission to the Department of Education, Skills and Employment Quality Initial Teacher Education Review by the Australian Council of TESOL Associations (ACTA). To read the ACTA submission and how Initial Teacher Education could be made more responsive to the linguistic diversity of Australian schools, please visit:
Media Release: Recent Submission to QITE Review

International Publishers Conference 2021 (August)
ATESOL NSW participated in this global conference on 30 & 31 August to contribute to discussions on the impact of COVID-19 on teachers and teacher associations. This conference was held entirely online while being managed from Athens, Greece. Representatives from TESOL associations from every continent had the opportunity to share valuable insights into how to engage and enrich members during times of lockdown and isolation. More information about our attendance at this fantastic initiative is available from the President of ATESOL NSW.


ACTA Conference Sponsorship Update (August)
Due to an extension of Stay at Home orders by the NSW Government, delegates from NSW will be unable to attend the ACTA Conference in Brisbane next month. ATESOL NSW has therefore withdrawn the offer of proposed scholarships for members presenting at this conference. For information on refunds available as a result of lockdowns, please visit the Conference website: ACTA International Conference


Draft English K-2 Syllabus (August)
NESA has recently released a draft English K-2 Syllabus for consultation. The consultation period runs from 2–23 August. This online survey provides teachers with an important opportunity to ensure the new syllabus reflects teaching and learning that is inclusive of EAL/D learners:

https://educationstandards.nsw.edu.au/wps/portal/nesa/k-10/learning-areas/english-year-10/syllabus-development

To be inclusive of EAL/D learners, the curriculum needs to:
▪  show teachers a clear pathway of learning from students' level of English proficiency to the language requirements of the curriculum. The syllabus should include prominent information about the EAL/D Learning Progression and its role in providing guidance for all teachers in scaffolding EAL/D students.
▪  clearly show the relationship between text purpose and language features. The draft syllabus currently lists grammar features in a way that would lead teachers to teach it in isolation rather than in a meaningful context. 
▪  clearly indicate that some EAL/D students start school with minimal English language skills. The expectations of grammatical accuracy in spoken language is not going to be realised for EAL/D learners who begin speaking English at school. The syllabus needs to be clear that grammar is taught in the context of learning to write not through speaking with grammatical accuracy.
▪  encourage the use of home language/s in the classroom.


Research report: English as an additional language or dialect (EAL/D) effective school practices (July Update)
Centre for Education Statistics and Evaluation (2021)
Two ATESOL NSW executive committee members were part of a team of five who authored this report. This research provides insights into effective practices in schools that demonstrate evidence of strong EAL/D student growth. It makes explicit what works for EAL/D learners in schools. It strengthens the evidence base for effective practices in schools by describing the particular nature of schools and teaching that drive successful EAL/D education. The EAL/D quality teaching lesson observation tool, developed as part of the research project and informed by previous research by Jennifer Hammond and the NSW Quality Teaching Model, has the potential to further enhance understandings of EAL/D teaching practice in future research projects. We strongly recommend reading either the summary of the full report. Links: Summary or Full Report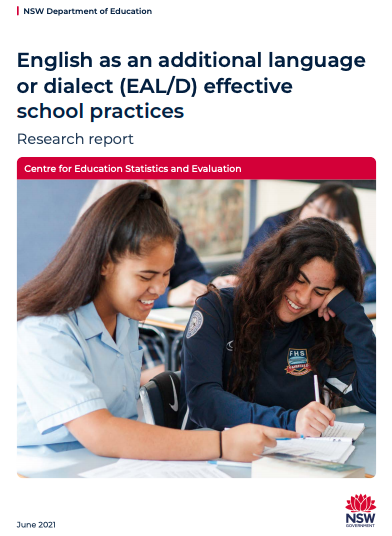 ACTA Conference Sponsorship Update (July)
If you have an individual financial member of ATESOL NSW ($100, $80 or $60 membership categories) and have received an offer to present at the 2021 ACTA Conference in Brisbane, you may now apply to have your attendance at the conference sponsored. ATESOL NSW will reimburse the members' rate registration fees for those presenting a workshop or research paper, and will make a contribution of $250 towards registration for those invited to make a poster presentation. Reimbursement will be made after the conference has concluded. Sponsorship requires that successful applicants will provide a summary of their paper (or poster) for the ATESOL NSW Newsletter, and will present their paper/workshop again as part of our Professional Learning program. Successful applicants will be notified on 1 September. Please contact us for further details.


TESOL Qualifications Survey (July)
ATESOL NSW is conducting a very quick survey (only 6 questions) to identify the proportion of EAL/D teachers with specialist TESOL qualifications. At this time, the survey is only open to NSW Department of Education teachers (apologies to everyone else!). We plan to use the data collected to gain an indication of specialist knowledge so that we can advocate for all EAL/D teachers in NSW at an upcoming meeting. This survey closed on 6 August 2021.


ACTA Conference Sponsorship (May)
As part of our advocacy initiatives, we actively support educators of EAL/D students across all sectors (early childhood, primary, secondary and adult education). ATESOL NSW will subsidise the conference registration fee for 2021 individual financial members whose proposals to present are accepted in the conference program. Proposals need to be submitted by Friday, 14 May 2021 and will need to outline the following: presentation title, a 300-word presentation overview, a 100-word biography and 3 key learnings of your presentation. Please visit this page and keep scrolling all the way down to peruse the topics and presentation types: Present


The ATESOL NSW AGM took place via Zoom on Saturday, 20 March. We congratulate Cindy Valdez-Adams, who was re-elected as President of ATESOL NSW for 2021. We warmly welcome three new councillors: Robyn Johnson, Caitlin Park and Bess Wassman. We greatly thank our past Treasurer, Rana Straker, who ensured the financial viability of our association over the past four years. Gillian Pennington has been elected as the Treasurer for 2021 and the PTC (Professional Teachers' Council) has also been engaged to assist ATESOL NSW with PL workshops. In 2021, we will continue to advocate on behalf of students and teachers across a variety of sectors, including universities and TAFE, as well as government, independent and Catholic school systems. Our advocacy is on behalf of English language learners who strive for equitable access to a rigorous curriculum that challenges them to be successful learners.


Professional Learning (March Update)
ATESOL NSW will continue to support educators with a variety of professional learning opportunities. Numerous workshops have been planned for 2021 and registration is available on the PTC (Professional Teachers' Council) website. Our first set of presentations are in celebration of Harmony Day, World Refugee Day, and International Day of the World's Indigenous Peoples. These celebratory workshops and presentations will be offered for free to ATESOL NSW financial members. Members of any other professional association, in any state or territory in Australia, will also be welcome to register.
2020
A letter from ATESOL NSW was sent on 16 December to Minister Sarah Mitchell regarding the dis-endorsement of professional associations as providers of Professional Learning. We questioned the evidence base on which the NESA review decided to limit its accreditation of courses to four priority areas excluding EAL/D education. Please click here to read a copy of the letter.


A letter from ATESOL NSW was sent on 3 November to the Minister for Education and Early Childhood Learning, Sarah Mitchell, concerning issues impacting the equity and effectiveness of EAL/D education in NSW Government schools. The letter requested answers from the Minister in relation to four key policy issues currently affecting EAL/D program provision in NSW Government Schools:
1. Allocation of additional EAL/D teacher positions in NSW Government schools;
2. Provision of EAL/D professional support to schools;
3. Contingency arrangements for Intensive English Centres during the pandemic;
4. NSW Auditor-General's Audit Report, Local Schools, Local Decisions: Needs based equity funding.
The questions aimed to follow up on strategies outlined in the ten-point action plan, Rebuilding Capacity: English as an Additional Language and Refugee Education in NSW Public schools - an Agenda for NSW Government 2019-2023 issued by ATESOL NSW, Ethnic Communities Council of NSW and NSW Migrant and Refugee Education Working Party prior to the state election last year. Please click here to read a copy of the letter. Please click here to read a copy of the Rebuilding Capacity plan.

June-July: ACTA Survey on the Effects of COVID-19 on Post-School EAL Educators. Have you taught or managed in programs for international students and/or adult migrant and refugee English language learners, for example in the AMEP, SEE Program, TAFE, university, ELICOS and community and State-funded programs? Then you'll know that the closure of Australia's borders has huge implications for your program and employment! To help ACTA advocate on your behalf, we need a sound evidence base. You'll need this password once you click on the link below: ACTA (upper case)
https://www.surveymonkey.com/r/ACTApost-school

The ATESOL NSW AGM took place via Zoom on Saturday, 28 March. We warmly welcome Cindy Valdez-Adams, who was elected President of ATESOL NSW for 2020. She is currently an EAL/D specialist teacher in South West Sydney and has many years of experience in the field. We would like to acknowledge the skills and expertise that Janet Freeman generously shared as our previous President. We also thank Melanie Davies, who was Secretary of ATESOL NSW for three years. Her organisational skills have been greatly appreciated. She will continue to manage the website and our Facebook group. Particular acknowledgement was given to Michael Michell in the form of Life Membership for his unyielding and thorough advocacy work on behalf of EAL teachers and students over many years.

A letter from ATESOL NSW was sent on 2 March to the Minister for Education and Early Childhood Learning, Sarah Mitchell. It welcomed the allocation in 2020 of an additional 104 EAL/D teaching positions in NSW Government schools and suggested actions to ensure improved student learning outcomes and maximise the Government's investment in EAL/D education. These actions encompass EAL/D staffing, training and professional support, reflecting the strategies outlined in the document Rebuilding Capacity: EAL/D and Refugee Education in NSW Public Schools - an Agenda for NSW Government 2019- 2023 issued by ATESOL NSW, Ethnic Communities Council of NSW and NSW Migrant and Refugee Education Working Party prior to the state election last year. The letter was also tabled at the Department's Multicultural Education Advisory Group meeting on 3 March. Please click here to read a copy of the letter. Please click here to read a copy of the Rebuilding Capacity plan. A brief reply on behalf of the Minister is available here.

2019
Teacher Survey: Use of EAL/D funding in schools. ATESOL NSW is conducting a survey to capture teacher feedback on the use of EAL/D funding in schools. The information will be used to support advocacy for EAL/D education in NSW. Your name and details will not be distributed or published, but a summary of responses will be made available. This survey closed in August 2019. A summary of the responses received is available from the Vice President of ATESOL NSW.

Rebuilding Capacity: English as an Additional Language and Refugee Education in NSW Public schools - an Agenda for NSW Government 2019-2023. ATESOL NSW, together with the Ethnic Communities' Council of NSW and the NSW Migrant and Refugee Working Party, launched the document 'Rebuilding Capacity: English as an Additional Language and Refugee Education in NSW Public schools - an Agenda for NSW Government 2019-2023' at NSW Parliament House on 1 March 2019. The document, which was submitted to the Government and Opposition prior to the NSW State election, outlines a plan for EAL/D education for NSW Government over the next four years through ten key proposals that address long-standing, unresolved, systemic policy issues. You can download the full plan here and a summary version here.

2018
ACTA Strategy for Language in Education and Training, 2018.
This Strategy has 15 actions, all aimed at addressing the long-standing national policy/program gaps and neglect in the area of language in education and training (EAL/D, Indigenous, language education, AMEP) that ACTA has been advocating for over the last few years. It has been used as the focus for discussions with Government and other parties about their education and training policy commitments. For more information, please visit ACTA's Advocacy page. The Strategy can also be directly downloaded here.

ATESOL NSW Inc. © 2018-2022
ABN 45 769 925 602

Professional Teachers' Council
PO Box 699
Lidcombe NSW 1825
P (02) 9716 0378
F (02) 9564 2342